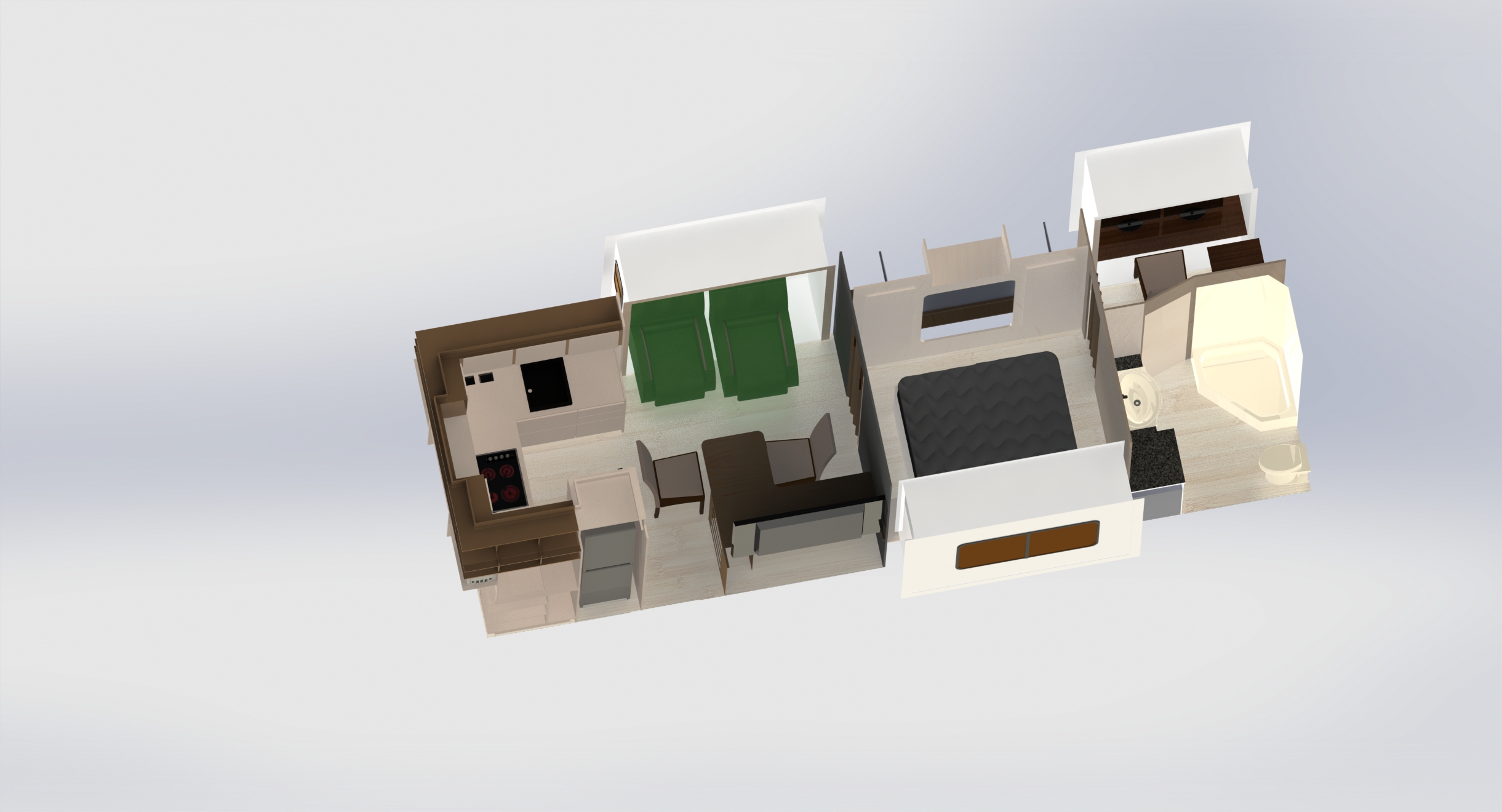 Interior – Features
Kitchen bench and cupboards built from aluminum honeycomb sandwich panel.
Outers laminated, interior aluminum finish.
Edges covered with anodised aluminum trim. 
Soft closing doors with magnetic latch when moving
Push open drawers.
Benchtop laminated.
Bedroom full height wardrobe built from aluminum honeycomb panels (choice of laminate)
Under bed cabinets made from aluminum honeycomb panels (choice of laminate)
Wallpapers in bedroom   or textured paint
Wallpapers in living area or textured paint
Kitchen, work area and bathroom painted with textured paint
All ceilings painted with textured paint
Kitchen and living area vinyl floor cover
Bedroom and work area timber flooring
Bathroom floor marine carpet 
Foldable side tables in living slide out
Main table is extendable, foldable and can be removed completely
Two recliner chairs with foot stools.
Bathroom vanity cupboard with drawer
Bathroom mirror
Washing machine recess
TV cabinet with TV lift painted in silver metallic effect, matching the surrounding colour scheme
Downlights above main table                                                                                                                                                                     
Interior – Options
Pull out pantry slides.                                                                                                                                
Corner unit with carousel unit for outside access.                                                                             
Bin opening in benchtop next to sink.                                                                                                   
Kitchen stainless sink with glass top.                                                                                                     
Appliance cabinets with roller shutter                                                                                                   
Dish washer recess                                                                                                                                     
Air-condition head unit cabinet with vent                                                                                            
Work area under desk cupboards             
Pencil drawer under work area desk
Folding desk extension for work area                       
Note:  Features are included in a basic version. Upgrades enhance or change basic features, where Options are entirely additional, selectable inclusions.