A 21st Century Home For The Serious Traveller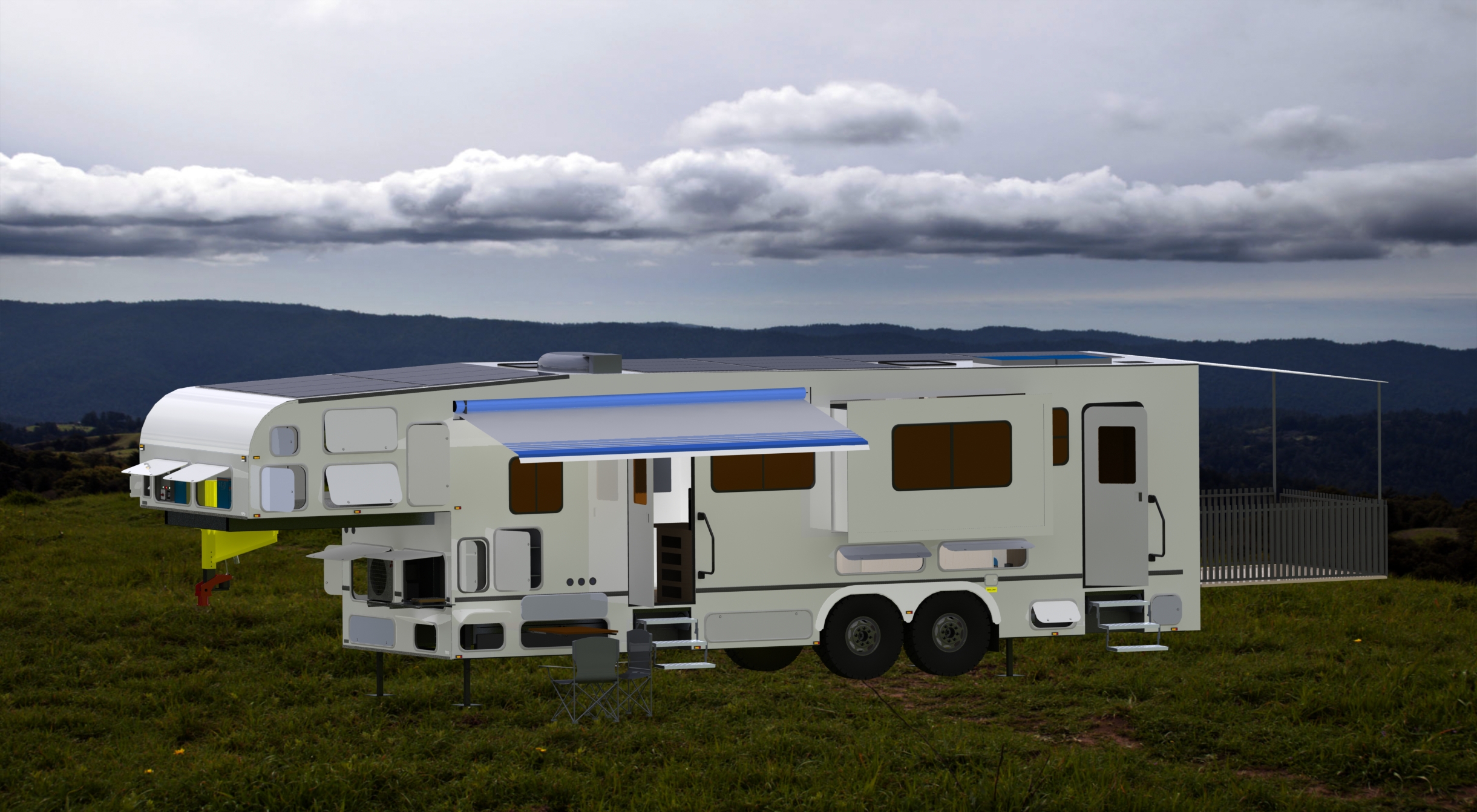 What you can expect from our van
Space age materials – no rust, no rot, no mold for the life of the van
Sophisticated all electric energy management for grid independent living
Massive payload and large storage areas for convenience and safety
Solid chassis with extra heavy duty legs for auto leveling and sturdy rest
Full size bathroom with luxury shower and unique water management
Up to nine water tanks with capacitive level sensing 
Hot and cold water management for minimum waste and instant hot water
Efficient split system, dual head, inverter air condition for high comfort
Lighting design with extensive functions for control of lighting effects   
CCTV security system with GSM uplink or Wifi connection
Solar hot water system for energy efficient water use and heating
Winter package including floor heating for pleasant stays in the cold
On board generator with remote control for peak demand 
No gas, no vents, no toxic fumes, no dust
 Rear deck with shade roof and fly screen side walls
Gooseneck coupling for maximum use of space on tow vehicle 
On board desalinator for water purification  
Marine hatches for best withstanding harsh UV exposures and heavy rain
Provision for Starlink mobile with range extender and wireless access point
Wifi for long range remote control and camera feeds
Internet logging for energy management and use
What you can expect from us
Our production methods and quality assurance creates a robust and reliable product. 
We stand by our work with 5 years warranty on workmanship and a 10 year warranty on body and chassis, except brake pads, tires and shock absorbers, which are subject to normal wear and tare and are covered by a 1 year warranty.
We guarantee a life long, return to base repair service for the original owner. If a van is sold on, the repair guarantee is limited to 10 years from the day of the original purchase.  
Our electronics are field upgradable and can be remotely diagnosed from our base, no matter where the van is located, as long as it is connected to the internet. We will diagnose any malfunction in the electronics and are able to send out replacement components if required. All components are plug and play and can be replaced by anyone except components requiring a licensed electrician. 
Our vans come in a base configuration with a large number of upgrades and options, to tailor the van to the requirements of the original owner. Many upgrades and options are only available at the time of construction of the van and cannot be installed after construction ended. For example: The deck option must be selected before construction commences. Contact us for more information. 
Specifications:
GTM                             6000kg
ATM                              7000kg
Tare                from     3900kg
Coupling max weight 1000kg 
Tires                              255/85/16
Rims                              8 x 6.5″
Length                          10.97 m
Width                              2.46 m
The important question:  What does it cost ?
Our upgrade and option price list contains over 200 positions, which makes it impossible to specify a fixed price. 
A typical configuration with many but not all options would start at AUD 220,000+ .
Please contact us for more details.
NOTE:
To tow this van a heavy vehicle license for articulated vehicles is required. The tow vehicle requires an air brake setup. 
We will not sell a van without proof of the tow vehicle.
The ATM can be de-rated if required, but not below 4.5t.