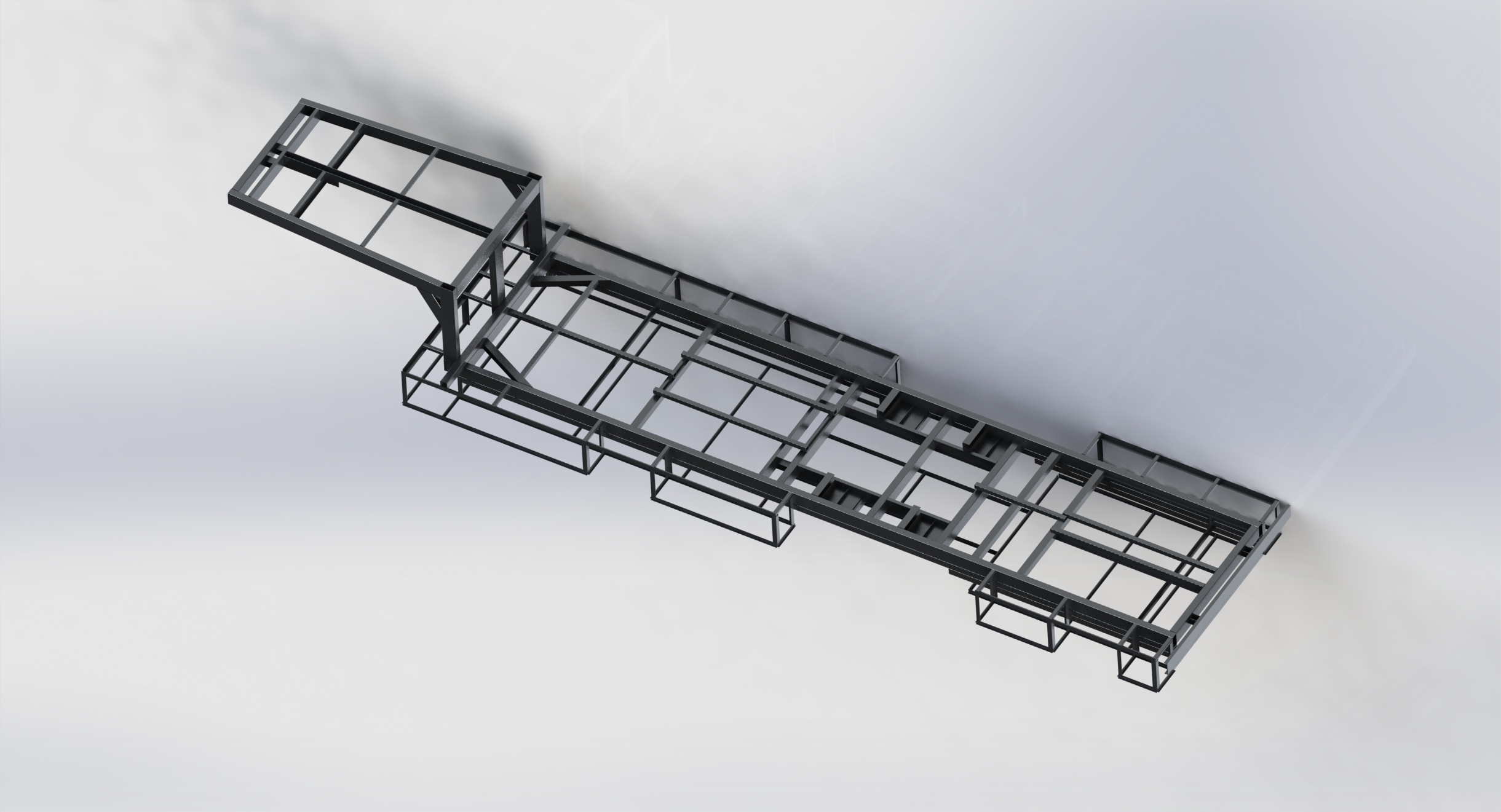 Chassis  – Features
11m Chassis built from Structural Aluminum stacked 152.5x 76.2 x 6.35 mm  with 76×76.6.35
Gooseneck with extra strong coupling mount with 40,000 lbs. Wallace & Forge 3" ball coupling
Aluminum honeycomb flooring 20mm
Underfloor frame for storage sections in front of and after wheel wells
50×50 Bumper Bar
Underbelly cover using corflute sheets and weatherboard lining
Dual axle with 3t per axle spring suspension
Galvanised steel subframe 100x50x5 with special designed mounting platforms for aluminum chassis
Rubber membrane between aluminum and steel surfaces
Nylon sleeves around stainless steel bolts connecting subframe and chassis
Air tank with control valve for service brake and parking brake with all required wiring and plumbing
Suzi coils for service brake and parking brake connection to tow vehicle
12″ Drum brakes with air actuators
Rotors with stud pattern for Toyota Landcruiser wheels (6 stud)
5x 6 stud wheels
Light truck tires 235x75x16 with one spare
ISO 7638 Connector for trailer lights/signals 
LED tail lights and number plate lights
3 side marker lights each side, 2 front marker lights
Electric front landing legs
Chassis – Upgrades
Airbag coupling with adjustable neck height                                                                                      
Airbag supported ball coupling                                                                                                              
Aluminum/Fiberglass Sandwich Panel 30mm extra light,  non-rotting floor                           
Underbelly cover using 1mm aluminum sheet in lieu of core flute                                                          
Airbag suspension with extra heavy-duty airbags with heavy duty shock absorbers
On board compressor for airbag system                                                                                           
Automatic ride height adjustment                                                                                                          
Programmable level system with preprogrammed heights and auto levelling                       
Separation valves for load sharing/non load sharing setting for airbags                                     
Abs controller with ISO 7638 cable and connectors for ABS power
Suzi coil for ABS power                                                                                                                          
Rotors with stud pattern for GM 8×6.5 wheels (8 stud)    
5x 8 stud GM wheels in lieu of 6 stud wheels                                                                                     
40 Ah Lithium battery for vehicle independent operation of levelling system.                         
Wiring for reversing camera                                                                                                                   
Hydraulic legs for front and rear, controller with auto level function. 10 ton                        
Upgrade 8 side marker lights each side, 4 marker lights front.                                                      
Neck section under cover with 1.6 mm propeller plate                                                                    
Wheel well lining with 1.6mm propeller plate
75 x 75mm bumper bar           
Note:  Features are included in a basic version. Upgrades enhance or change basic features, where Options are entirely additional, selectable inclusions.